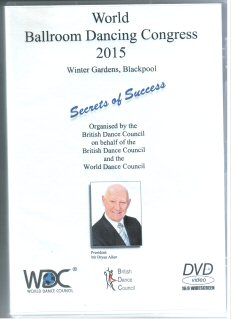 World Ballroom Dancing Congress, Blackpool May 2015
By: --NA--
Approx.
$130.16
¥14,519
111.77 EUR
RUB0.00
Product code: DB-BDF15
Every year in May Blackpool becomes not only the home of one of the finest dance competitions, but also a home of the famous Blackpool Congress where world's best professional dancers and teachers give lectures about dancing at the highest level. Tickets to the Congress are expensive and places are limited, fortunatelly there are also the official Congress DVDs that allow you to experience learning from the World's finest Dancers and Coaches.
The theme of this year Congress is Secrets of Success.
DISC 1
Opening Ceremony
Donnie Burns & Gaynor Fairweather MBE - You are the Best Thing that ever Happened to Me - 35 min
Victor Fung & Anastasia Muravyeva - From Within - 29 min
Sergey Sourkov & Melia - Coming together, Keeping together, Working together - 26 min
Craig Smith & Micheline Marmol - Innovation - 24 min
DISC 2
Bryan Watson & Carmen - Success of the secrets - 33 min
John Wood - The Thought of Failure was the secret of my Success - 33 min
Andrea & Sara Ghigiarelli - Passion, Commitment, Love - 30 min
Slavik Kryklyvyy & Karina Smirnoff - Fusion - 26 min
Richard Gleave OBE & Anne Gleave - Success Secrets - 26 min
DISC 3
Arunas Bizokas & Katusha Demidova with Riccardo Cocchi & Yulia Zagoruychenko - Find our way by Pursuit of Happiness - 62 min
Yang Chao & Tan Li Ling - Development History - 22 min
Maurizio Vescovo & Andra Vaidilaite - Go Hard, No Excuses - 35 min
Michael Malitowski & Joanna Leunis - Dancing is Poetry, Each movement is a Word - 34 min
DISC 4
Domen Krapez & Natasha Karabey - Passion, Persistence, Planning - 26 min
Lorraine Rohdin - It is all in the touch - 30 min
Valerio Colantoni & Monica Nigro - Secret ...? - 26 min
Alan & Hazel Fletcher - Our Life and Times - 30 min
Total running time: approx 9.5 hrs (18 lectures, average 30 min/lecture plus opening ceremony)
---
---
Additional info
NTSC is a system used in America and Japan. PAL is used in Europe and Australia
Read about TV formats: PAL, NTSC and DVD regional codes