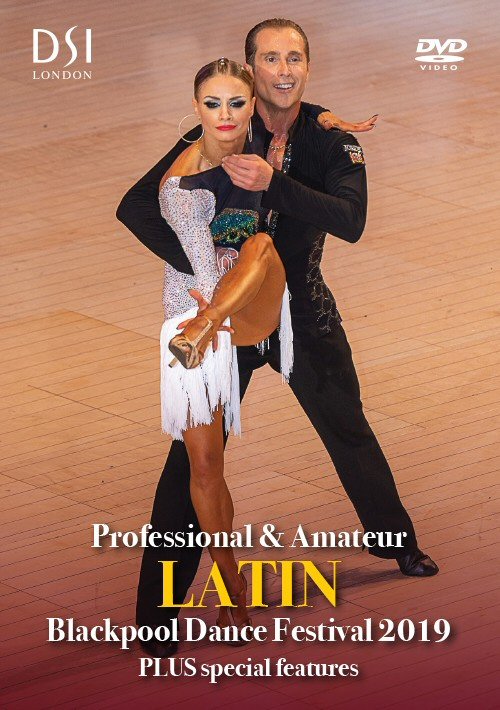 94th Blackpool Dance Festival 2018 - Professional and Amateur Latin
By: --NA--
Product code: DSI-7619BL
Two DVD releases are available for 2019 Blackpool Dance Festival: Professional/Amateur Ballroom and Professional/Amateur Latin.
Each release is a double DVD
containing the highlights of the quarter-finals, semi-final and final in full. The Results announcement is also included.
As always Blackpool DVDs show a truly breathtaking show and spectacular outfits! Multi-camera professional footage.
SPECIAL FEATURES:
70 minutes
Relive the magic of the Team Match for the first time on DVD. One of the highlights of Blackpool Dance Festival, this year's event was particularly memorable for the retirement of Ballroom superstars Arunas Bizokas and Katusha Demidova. Special features also include individual footage of the legendary Professional Latin finalists.
PROFESSIONAL LATIN
100 minutes
Final
Riccardo Cocchi & Yulia Zagoruychenko, USA
Stefano Di Filippo & Daria Chesnokova, USA
Troels Bager & Ina Ivanova Jeliazkova, USA
Dorin Frecautanu & Marina Sergeeva, Moldova
Kirill Belorukov & Polina Teleshova, Russia
Nino Langella & Andra Vaidilaite, Italy
Semi-final
Nikita Brovko & Olga Urumova, Russia
Morten Löwe & Roselina Doneva, Denmark
Massimo Arcolin & Laura Zmajkovicova, Italy
Gunnar Gunnarsson & Marika Doshoris, England
Manuel Frighetto & Daria Sereda, Italy
Andrei Kazlouski & Asta Sigvaldadottir, USA
Vladimir Litvinov & Olga Nikolajeva, Russia
Anton Sboev & Patrizia Ranis, England
Anton Nesterko & Dariya Maryuschenko, Ukraine
Quarter-final
Manuel Favilla & Nataliya Maidiuk, USA
Valentin Voronov & Anna Pelipenko, Canada
Artur Tarnavskiy & Anastasiya Danilova, USA
Marc Jimenez Blanch & Valeryia Urymahava, Spain
Kamil Studenny & Anna Kapliy, Canada
Andrei Kiselev & Anastasia Kiseleva, Russia
Sigurdur Thor Sigurdsson & Annalisa Zoanetti, Iceland
Alexey Karaulov & Vlada Karaulov, Canada
Andrey Patrushev & Ekaterina Bralyuk, Russia
Nasko Gendov & Ekaterina Krisanova, Russia
Andrzej Suchocki & Natalia Piecewicz, Poland
Kirill Voronin & Tatyana Kosenko, Russia
Vitaly Sevastianov & Anna Lisova, England
Jaak Vainomaa & Tiina Tulikallio, Finland
Victor Catalin Cauca & Angelique Meyer, Austria
Kim Minje & Han Hyebin, South Korea
Ruslan Khisamutdinov & Karina Yusupova, Russia
Andrey Strebizh & Anastasiya Vasilchenko, Russia
AMATEUR LATIN
80 minutes
Final
Ferdinando Iannaccone & Yulia Musikhina, USA
Klemen Prasnikar & Alexandra Averkieva, Slovenia
Petar Daskalov & Zia James, England
Damir Haluzan & Anna Mashchyts, Slovenia
Salvatore Sinardi & Viktoriya Kharchenko, Italy
Austin Joson & Nino Dzneladze, USA
Semi-final
Darren Hammond & Milla Lykke, South Africa
Adam Hathazi & Morgana Lakatos-Hayward, England
Tagyr Mansurov & Alexandra Kondrashova, USA
Alexander Chernositov & Arina Grishanina, USA
Oleksandr Kravchuk & Olesya Getsko, Ukraine
Joel Lopez & Kristina Bespechnova, Spain
Quarter-final
Sam Shamseili & Liza Lakovitsky, Denmark
Anton Lam-Viri & Anastasiya Savinskaya, Russia
Lloyd Perry & Rebecca Scott, England
Sergey Maksyuta & Valeriya Verstova, Russia
Tal Livshitz & Ilana Keselman, USA
Carlos Gu & Susan Sun, China
Francesco Garofalo & Magda Strzesnicka, Italy
Aleksandr Zevelev & Alina Agarkova, Russia
Wu Liu Fu & Elena Rabinovich, China
Tang Yi Ming & Huang Xin Yi, China
Denys Drozdyuk & Antonina Skobina, USA
Adelmo Mandia & Leah Rolfe, England
The DVDs are multi-region and are compatible with PAL and NTSC systems.
---
---
Additional info
NTSC is a system used in America and Japan. PAL is used in Europe and Australia
Read about TV formats: PAL, NTSC and DVD regional codes
---
Part of collection