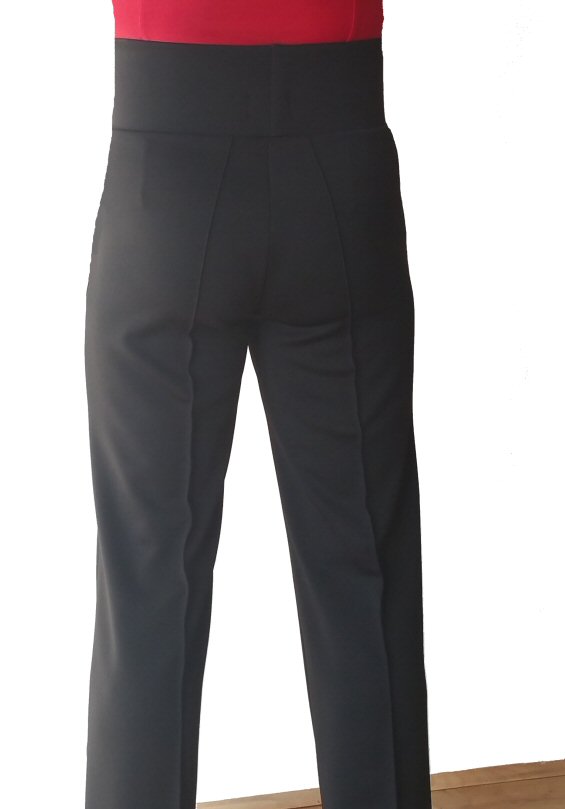 Mens HIGH WAIST Heavenly stretchy trousers
By: DancesportUK
Product code: E-MTR142H
This are basically the same trousers as E-MTR142 (just above), but they come with wider elasticated belt in waist and reach higher up on your body. The width of the rubber band waist is 10cm (4 inch). For comparison the width of the rubber band in the E-MTR142 Heavenly stretchy trousers is 4cm (1.7 inch), the HIGH WAIST version reaches 6cm higher.
Ultra comfortable, elasticated Practice trousers that look like formal trousers from a distance, but feel like tracksuit trousers. Elasticated waist. Totally crease resistant. Very easy care: Machine wash, Quick drying, Ironing not required.
The material used here is much more stretchy and slightly thicker than traditional trousers. but it is smooth, not fluffy like tracksuit trousers could be. Those who have tried them already do not want any other practice trousers!
Length inside leg 88cm. ( 34 inch). You can cut them to the required length yourself We can also make Shorter and Longer versions and Custom sizes as special orders.
Leg width at hem 10.5" (26.5cm) measured flat or 21" (53cm) around. On request we can make it different.
The trousers are stretchy, but the sizing is a little on a small side, so if you hesitate between two different sizes - order the larger one.
Delivery times: UK: 3 days | Rest of the world: 1-2 weeks
---
---
Sizing information
Men

XXS

Xtra Small

Small

Medium

Large

Xtra Large

XXL

XXXL

Collar
measured at the base of neck

13.5"
(35cm)

14"
(36cm)

14.5"
(37cm)

15"
(38cm)

15.5"
(39/40cm)

16"
(41cm)

16.5"
(42cm)

17"
(43cm)

17.5"
(44.5cm)

18"
(46cm)

Chest
measured just under armpits

31"
(80cm)

34"
(86cm)

36"
(91cm)

38"
(96cm)

38"
(96cm)

40"
(101cm)

40"
(101cm)

42"
(106cm)

44"
(112cm)

46"
(117cm)

Waist
at belly button level

26"
(66cm)

28"
(71cm)

30"
(76cm)

31.5"
(80cm)

31.5"
(80cm)

33"
(84cm)

33"
(84cm)

34.5"
(88cm)

36"
(92cm)

38"
(97cm)

Body length
from top of shoulder to crotch

27"
(69cm)

29"
(74cm)

31"
(79cm)

31"
(79cm)

31"
(79cm)

32"
(81cm)

32"
(81cm)

32"
(81cm)

33"
(84cm)

33"
(84cm)

Sleeve length
from armpit to wrist

22"
(55cm)

22"
(55cm)

22.5"
(57cm)

22.5"
(57cm)

22.5"
(57cm)

22.5"
(57cm)

22.5"
(57cm)

22.5"
(57cm)

22.5"
(57cm)

22.5"
(57cm)

Sleeve length should be at least 1 inch longer than the length of your arm from armpit to wrist to avoid a "too short" look when you stretch your arm
Measurements are given when the fabric is completely unstretched. All our fabric are stretchy and will stretch at least 2 inch easily. You can therefore go slightly wrong and choose one size too small or too large.



Additional info
We try to ensure that the products on this website are accurately described. However, because of the difference in monitors or graphic cards the colour of the picture may be slightly different than the real product.
We recommend you check the general sizing guide before buying
Check the general delivery times
---
Part of collection